Reykjavik
/
Public transport Reykjavik
Transport in Reykjavik
Tips on tourist buses and public transport in Reykjavik

All info about buses and other public transport options in the center of Reykjavik, Iceland.
Transport in Reykjavik
The great thing about a Reykjavik city trip is that most sights are within walking distance of each other, for example near the old harbor and the Hallgrimskirkja. However, several attractions such as the Perlan and the open-air museum are located just a bit further from the center, so you prefer to use the bus (especially in rainy weather). Reykjavik has an excellent public transport network for this.
1. Public buses
All buses in Reykjavík are operated by the company Strætó BS. These striking yellow buses are actually the only means of public transport in and around the city. Via this route planner you can easily plan your trip. To use these buses you have a number of options:
Cash: At the time of writing, it is still possible to buy a ticket in cash on the bus, for which you will have to pay the exact amount. The driver may not have change. Keep in mind that this option will disappear.
Klapp App: Download the Klappid app from Strætó on your phone. You can buy individual tickets or period tickets for Strætó buses via your phone and scan your code upon entering the bus.
Klapp Card: This is a contactless smart card that you can scan upon entering the bus. You will first have to purchase this Klapp Card at certain stores, so this is not the most user-friendly option (more info)
Tip: When you use the popular Reykjavik City Card (24, 48 or 72 hours) you will not only have free access to various museums, galleries, the ferry to Videy Island and swimming pools, but also access to the buses in the capital (not the buses that leave the city such as towards the airport). This is an ideal pass if you are staying in Reykjavik for a few days (info and bookings).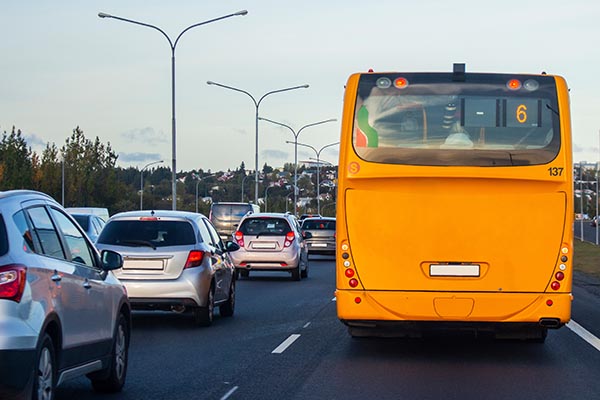 The public bus in Reykjavik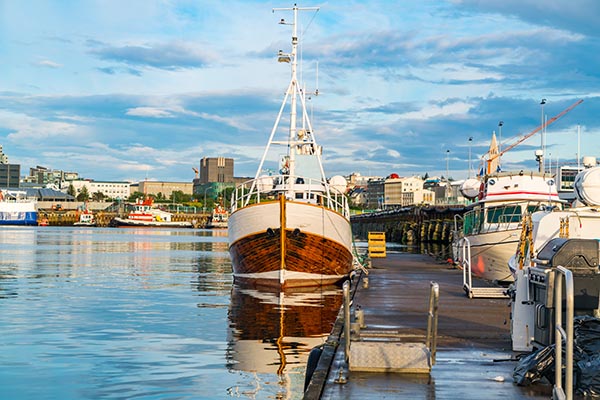 Some excursions depart from the port
2. To and from Reykjavik airport?
You have three options for getting from the airport to the center of Reykjavik: by bus, rental car and taxi. In this article we tell you everything about the transport options between the airport and the city center as Keflavik International Airport is 50 kilometers away from the center of Reykjavik. The most logical option is to use this FlyBus transfer that you can easily pre-book.
More info airport transfers
3. Hop on Hop off buses Reykjavik
Like in any tourist city, also in Reykjavik you can't miss the touristic hop on hop off buses. The buses run on one route where you can get off as often as you like at the 16 different stops and Reykjavik attractions. You can choose between a bus ticket for 24 or 48 hours (more info and tickets) which includes an English audio guide. The advantage of the Hop on Hop off buses is that they also come a little further outside the center, such as at Laugardalur Park and the Perlan Museum.
You can find it at this map the full route.
October - May: Every 45 minutes between 9:30 am and 4:15 pm
June - September: Every 30 minutes between 8:30 am and 4:15 pm
A 24h ticket costs 4500 ISK and a 48h ticket costs 5500 ISK (book your tickets online)

Our readers say
4.8
(95.85%)
7
reviews
July 11, 2023
Martin

: "

We had a fantastic holiday in Iceland because of the good travel tips about activities, tourism and sightseeing in Reykjavik city.

"