Reykjavik
/
Iceland excursions from Reykjavik
Iceland excursions from Reykjavik
12 Best Day Trips from Reykjavik, Tours & Iceland Excursions

All info about the best tours, day trips and excursions from Reykjavik. Tips for fun activities and things to do in Iceland can be found here:
12 Best Day Trips from Reykjavik
The city of Reykjavik is the ideal base to explore more of Iceland. The country is of course known for its beautiful landscapes and from Reykjavik you can easily visit highlights like the Golden Circle, the Blue Lagoon or the Snæfellsnes peninsula. With the excursions and day tours from Reykjavik below you will be well guided by a local guide and you can enjoy the southwestern part of Iceland. I have listed the 12 best day trips from Reykjavik and Iceland excursions for you based on excellent reviews and personal experiences:
1. Excursions in Iceland: Golden Circle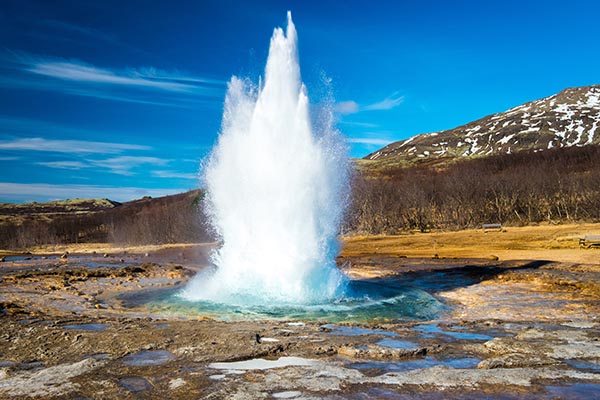 Day Trip from Reykjavik: Shooting Geysers in Geysir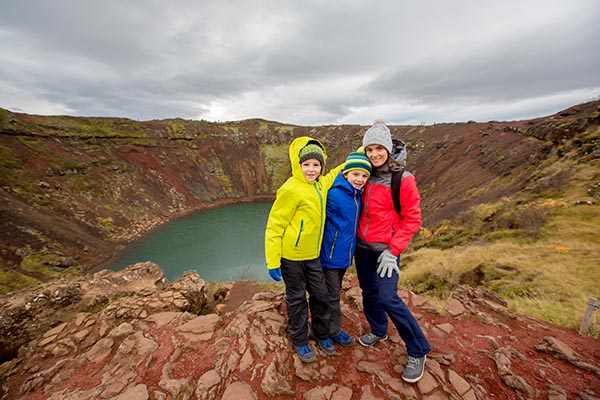 Kerid's Crater in the Golden Circle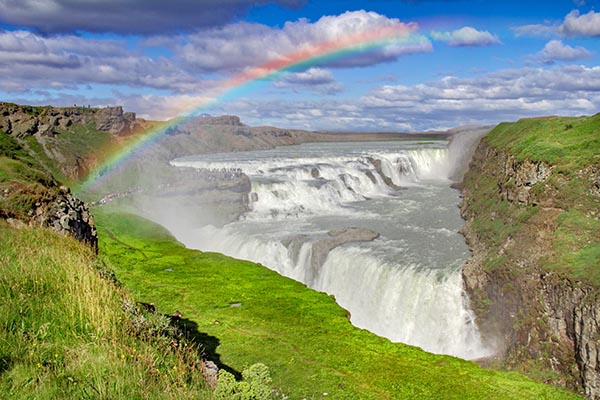 Iceland excursion to the Gullfoss waterfalls
The Golden Circle day trip is a must do if you visit Reykjavik. With this excursion from Reykjavik you will see some of the most beautiful places in Iceland, such as the spectacular Geysir area, the Gullfoss waterfall and the Þingvellir National Park. Accompanied by a guide you will receive a lot of background information and you can visit the Golden Circle in a one day trip. If you are not going to discover Iceland by car, this is definitely the number 1 excursion from Reykjavik.
One of the highlights during this Golden Circle excursion is a visit to Geysir. Geysir comes from gjosa which means 'spout' and this geyser is located in a very active geothermal area. Here water is actively bubbling out of the ground which looks impressive when it shoots up like a geyser. The Gullfoss is a huge and one of the most beautiful waterfalls in Iceland. Thingvellir National Park is also a special location, being the place where two tectonic plates meet. Another stop on this day trip is the Crater of Kerid, a huge crater 55 meters deep and 170 by 270 meters in size.
2. South of Iceland Day Trip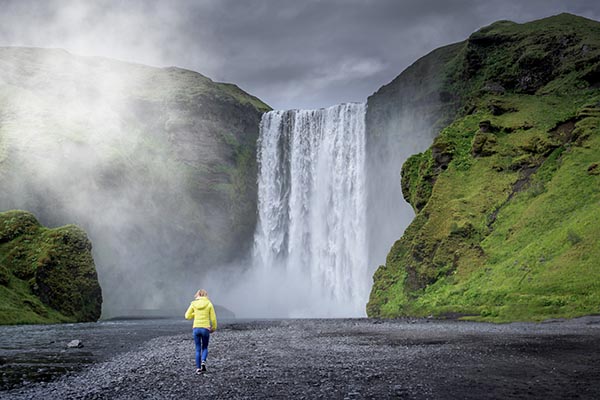 Excursions Iceland: the Skógafoss waterfalls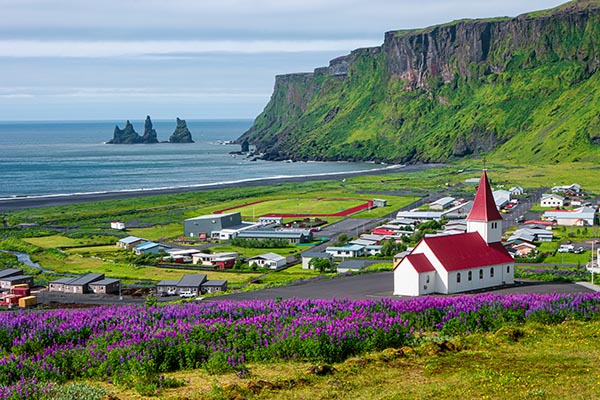 Vik, the southernmost town in Iceland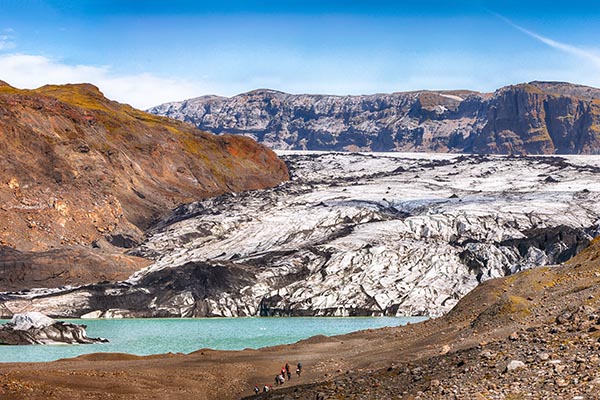 Excursion to Glacier Sólheimajökull
If you have time for a second Iceland excursion I definitely recommend this excursion from Reykjavik to the south of Iceland. With this day trip you will encounter unique landscapes, such as at the southernmost village in Iceland Vik. Close to Vik you will come across black sand beaches; the sand is black because it consists of volcanic rock. A volcano once erupted and then a black sand beach was formed. You will also stop at Glacier Sólheimajökull. On some extended excursions (more info and bookings glacier walk) you can even walk over the glacier together with an experienced guide, but this glacier can also be seen well without a walk. On the south coast trips you will also come across several waterfalls such as the beautiful Skógafoss waterfall, which is 60 meters high and 25 meters wide (info and bookings).
Tip: There are several organizations where you can book this excursion. I had an excellent experience with this day trip to the south of Iceland. On this day trip I had a very enthusiastic guide and I saw the most beautiful of the south coast of Iceland in one day. This provider has convenient pick-up locations and you can even cancel your tour up to 24 hours in advance.
Book South of Iceland
3. Tours from Reykjavik: Blue Lagoon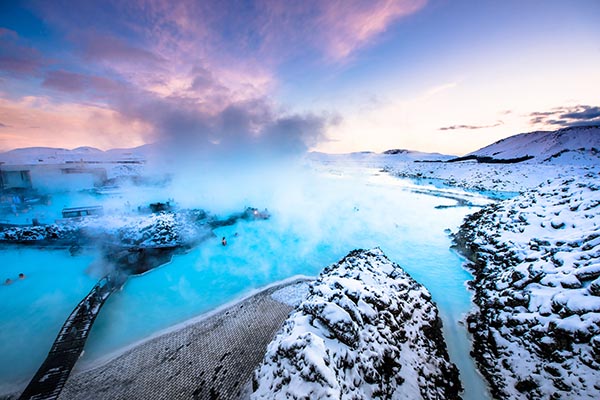 Tours from Reykjavik: Blue Lagoon, a top attraction in Iceland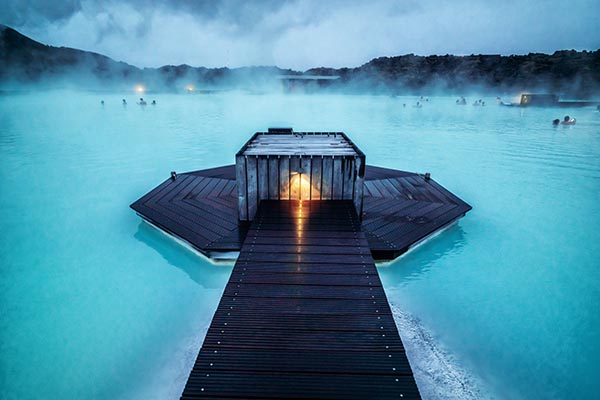 Reykjavik excursions: Relax in the Blue Lagoon hot springs
Are you ready for a nice day of relaxation during your city trip Reykjavik? Then take a bus to the geothermal baths of the Blue Lagoon, definitely one of Iceland's top attractions. As a day trip you will be transported back and forth to the world famous Blue Lagoon which is beautifully situated 39 kilometers from Reykjavik between the black lava fields. With this Blue Lagoon excursion you will fully enjoy the hot springs with transportation included. The Blue Lagoon is heated in a geothermal way and is at the top of the bucket list for many Iceland travelers. Also with own transport it is highly recommended to book tickets in advance.
Tip 1: Are you only in Reykjavik for a short time and want to visit the Golden Circle? Then consider this day trip to the Golden Circle including the Blue Lagoon, that allows you to efficiently combine the two major highlights in one day.
Tip 2: As a cheaper alternative and with much more availability, you can also opt for the Sky Lagoon. These geothermal pools only opened a few years ago and, as a big plus, are just a few miles from Reykjavik (more info and bookings).
4. Day trip to Snæfellsnes Peninsula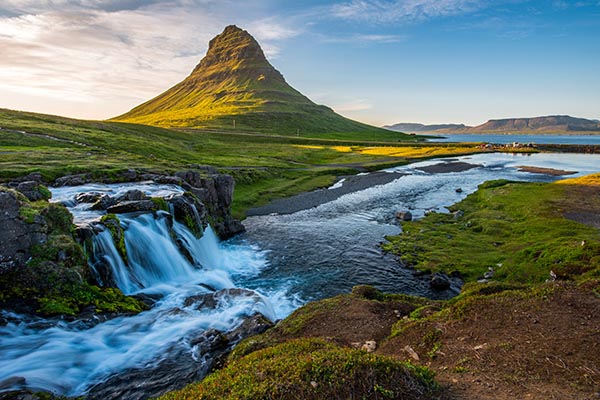 Kirkjufell on the peninsula Snæfellsnes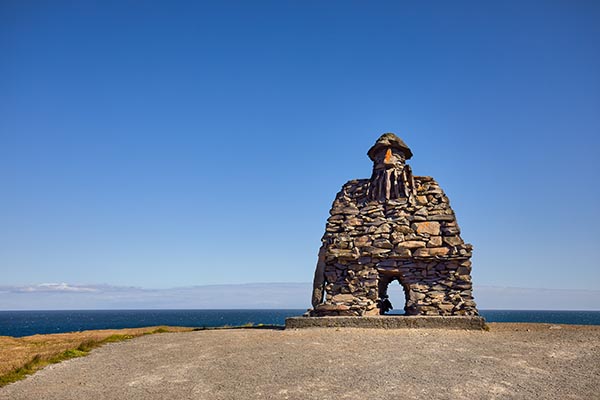 Excursion from Reykjavik: Bardar Sagar on the Peninsula
From Reykjavik you can also take a day trip to the Snæfellsnes Peninsula. On Snæfellsnes you will find beautiful rugged landscapes, black sand beaches and beautiful mountains. On this Iceland excursion you will also visit a charming fishing village with the Bardar Sagar monument. When you book this Snæfellsnes excursion you are away for a whole day. The excursions to the peninsula are only possible during the summer, but then it is also definitely worth admiring this unique and barely inhabited part of Iceland. For this excursion from Reykjavik you can choose from the following three providers (more info and bookings), of whom I was very satisfied with this excursion.
Book Snæfellsnes Tours
5. Volcano Hike on Reykjanes Peninsula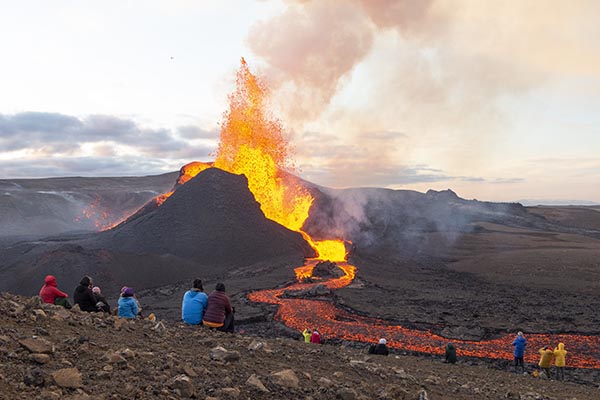 Volcano Hike on Reykjanes Peninsula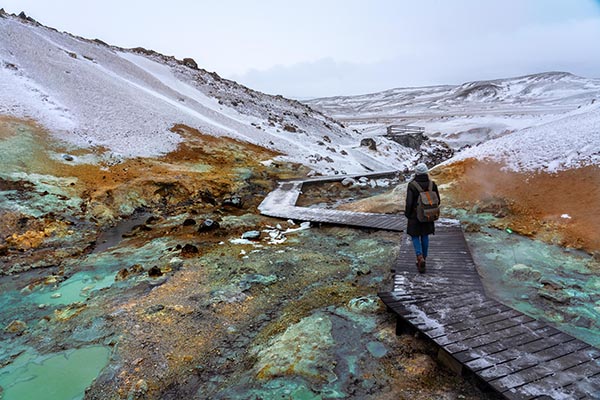 The volcanic area of Krysuvik Seltun
Would you like to do a volcano hike as an excursion in Iceland? This is possible on the Reykjanes peninsula in southwestern Iceland. You will be guided during this volcano hike guided by a local guide in the volcanic area of the Fagradalsfjall volcano and adjacent Meradalir-valley. The guide will tell you a lot of information about the peninsula and the volcanic eruptions during the long hike (two times two hours one way). In 2021 and 2022 eruptions have occurred here, so the remains are recent which can make it even more interesting. To avoid disappointment, the condition of the volcano on the Reykjanes Peninsula is unpredictable and can change overnight. The spectacular photos below were taken during recent eruption periods, but you may also find the volcano less active. Even then, this volcano hike is still a special experience (more info and bookings).
6. Jökulsárlón glacier lagoon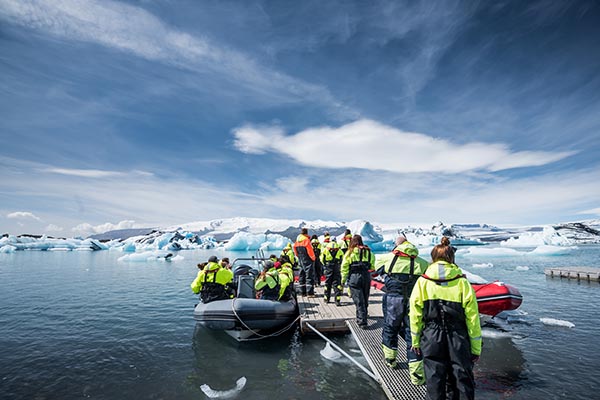 Discover the Jökulsárlón glacier lagoon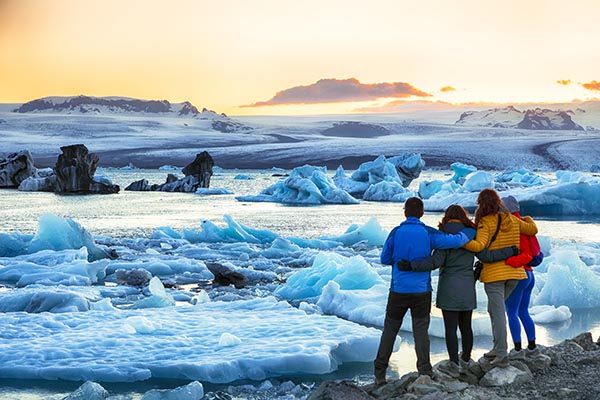 A wonderful Iceland excursion from Reykjavik
Jökulsárlón is the deepest and largest glacial lagoon in Iceland. With this day trip (takes no less than 14 hours) you drive along the impressive south coast of Iceland to this glacier lagoon. Further along the way you can sometimes admire the Seljalandfoss waterfall and the black beaches at Vik. With some tours, lunch, a cruise and dinner are even arranged, so that your whole day is organized in a relaxed manner (more info and bookings).
Book Jökulsárlón Tours
7. Horseback riding on lava fields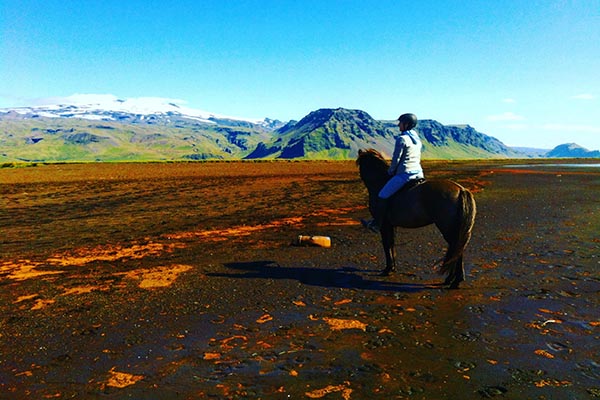 Excursions Reykjavik: Visit the lava fields on horseback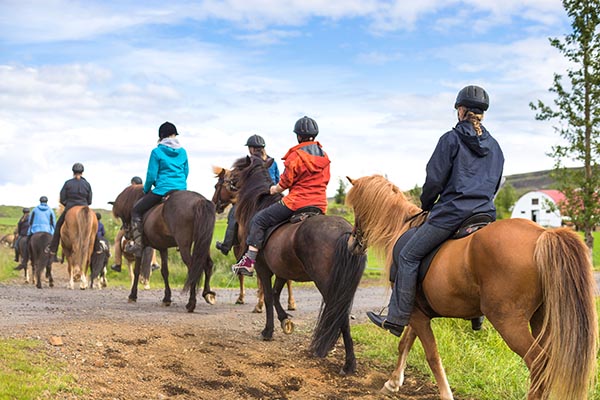 Horseback riding, a fun activity from Reykjavik
In the Reykjavik area you will also find unique Icelandic horses. It is definitely worth riding on this one. They are very friendly horses, so you don't have to worry about them. You ride with these horses through a beautiful area of Reykjavik with lava fields. During these tours you will experience the gait of the Icelander, namely tӧlt. The horses outside Iceland can't do this, so that's an experience in itself. You drive under guidance through amazing landscapes such as lava fields and hilly landscapes. This horseback riding tour across the lava fields also includes a pick-up service from Reykjavik.
8.Winter: Northern Lights Excursions Iceland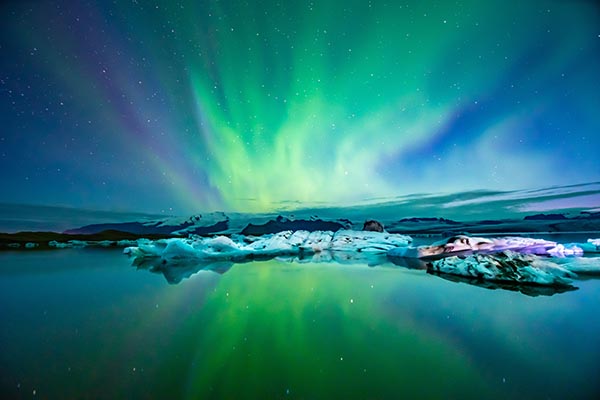 On an excursion to admire the Icelandic Northern Lights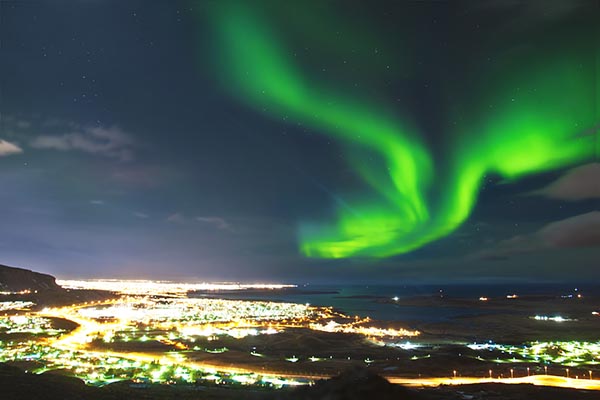 Spot the Northern Lights with Tours from Reykjavik
If you go to Iceland, you don't want to miss seeing the Northern Lights; In Iceland you call this Aurora Borealis and it is especially noticeable in the dark and colder winter period from October to April. Of course, you want to be able to admire the Northern Lights optimally and that is why a bus tour is the ideal activity to do this. The specialists of these tours know exactly how much activity there is in the air and from which places you can best view it. These tours take you to places outside the city with as little light pollution and clouds as possible.
Tip: You can see forecasts of Northern Lights activity at auroraforecast.is and at vedur.is the cloud cover forecasts (confusing: green means a lot of cloud on this website). It is not only important that there is a lot of 'activity', but also the 'cloud cover' should not cause too much nuisance. Furthermore, the Northern Lights are less visible with a lot of light pollution of the city, so you can get the best with this Northern Lights tour. These Northern Lights spotters know exactly where the most activity is, holes in the clouds and they take you to remote places outside the city.
Note: The tours also involve a good portion of luck and in the event of poor prospects, tours will be moved to the next day. Schedule this Northern Lights tour therefore as early as possible during your trip, so that you can also join a possible resit.
9. Animal watching: Puffins and/or whales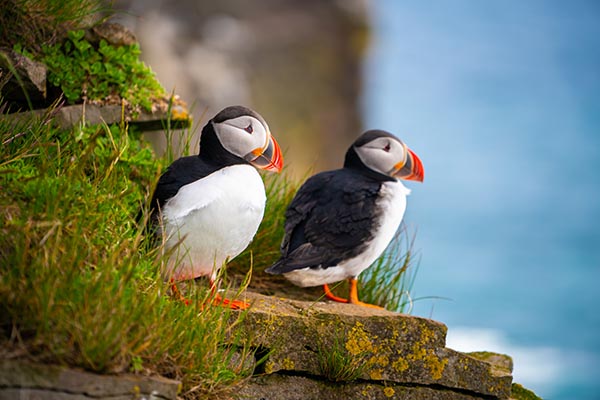 Go on an excursion to spot puffins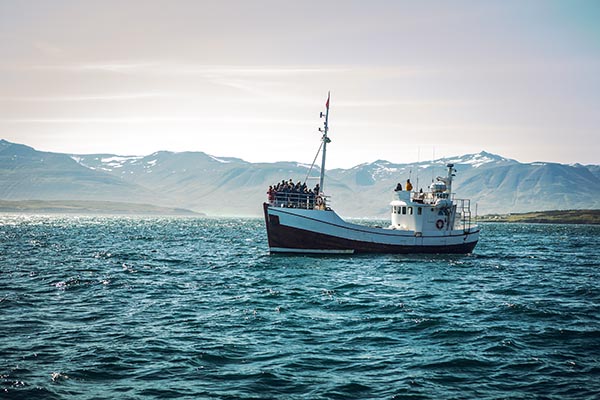 Whale Watching from Reykjavik
The puffin is a bird of the auk family and is also known as the clown among seabirds in Iceland. The puffins have a colorful beak and funny facial expression. It is certainly special to admire these seabirds. They are up to 30 centimeters in size and have a wingspan of about 50 to 60 centimeters. The puffins can only be seen during the breeding season (May to August) on the steep cliffs by the sea (info and booking of tours from Reykjavik).
One of the best things to do in Reykjavik is whale watching. You get on the boat from the harbor of Reykjavik and you get a warm overall so that you don't get cold on the boat. You can take pictures from the boat, admire the huge sea creatures and hear interesting stories from the guide about the different types of whales. You can basically spot whales all year round, but the months of June to August are the best months to spot different species (info and booking of excursions from Reykjavik).
10. Lava Tunnel, a unique excursion in Iceland
During this tour in the Lava Tunnel you will enter a typical lava cave in Iceland. This is a special experience in the mysterious underworld. You will encounter icicles and remnants of volcanic eruptions. You walk through fairytale corridors and crawl under the surface of the earth. Put on good shoes and gloves so you can walk through this quietly (More info Lava Tunnel excursions from Reykjavik).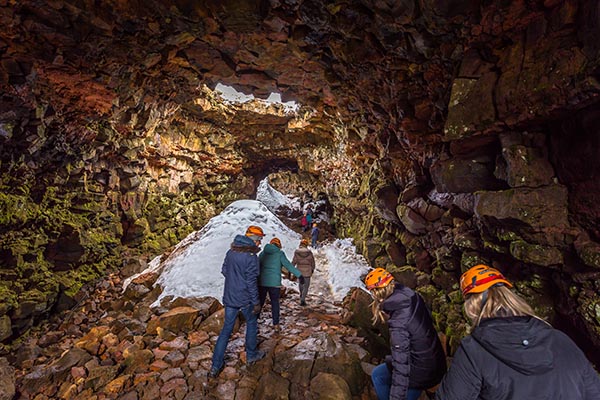 Take an excursion to one of the lava tunnels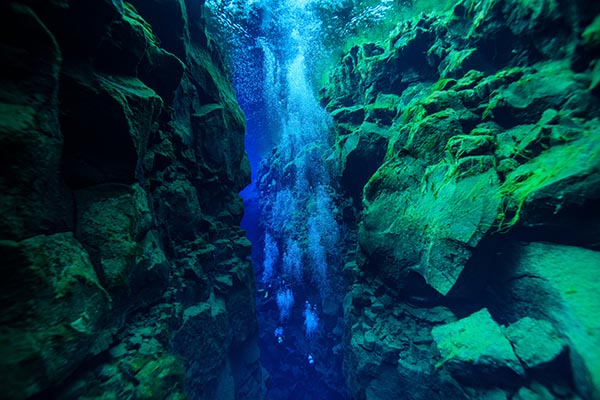 Diving or snorkeling in the gorge of Silfra
11. Snorkeling: Gorge of Silfra
At the Gorge of Silfra you snorkel between the American and Eurasian tectonic plates. How incredibly special is that? The water is so clear that you have up to 100 meters of underwater visibility. The journey here already allows you to enjoy the views and landscapes of Iceland. There is a fantastic underwater view that will amaze you (More info about snorkeling tours).
12. Day trip from Reykjavik: Sky Lagoon
The Sky Lagoon is located just a few kilometers from Reykjavik and is brand new and therefore a great alternative to the overly touristy Blue Lagoon. Here you have great sea views while relaxing in a geothermal bath. It features soothing music, soft lights and excellent facilities. Sky Lagoon is maximum quality time and it is bookable including transfer from Reykjavik (more info and bookings Sky Lagoon).

Our readers say
4.8
(95.85%)
7
reviews
October 22, 2023
Martin

: "

We had a fantastic holiday in the capital of Iceland because of the good travel tips about activities, tourism and sightseeing in Reykjavik city.

"